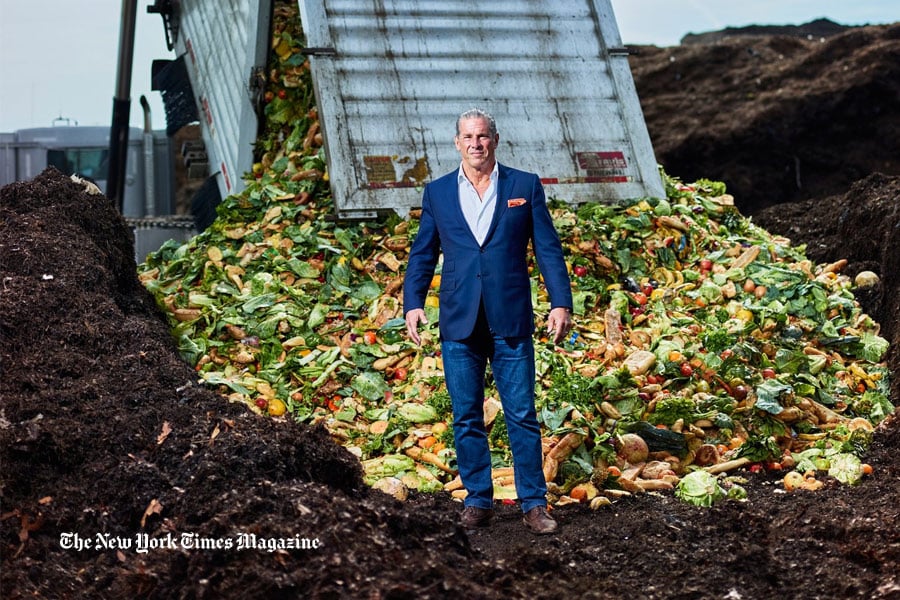 American Organic Energy is the brainchild of Arnold and Charles Vigliotti, whose combined experience of 80 years in waste management puts them in a unique position to influence the Long Island region's at-times daunting environmental challenges.
Established as the next generation of organic waste solutions, AOE's mission is to transform the organic waste disposal practice on Long Island, and quite possibly, the world. It is based on the simple but brilliant concept behind the intelligent reuse of material, designed to replenish the seeds that nourish the communities and landscape of Long Island and the New York metropolitan region, along with the livelihoods of all who live there.
Long Island Compost, launched by the brothers, currently recycles hundreds of thousands of tons of leaves, grass clippings and other landscape-related materials generated by Long Islanders. At the site of the nation's largest yard-waste transfer station in Yaphank, New York, they transform the waste of more than 2,000 landscaping companies into organic compost, providing an environmentally-sound solution to the region's organic waste problems.
Not content to stop at this, the Vigliotti brothers seek to take their philosophy to another, more innovative level, by building a cutting-edge food waste processing facility unparalleled in its sophistication and ambition to have maximum environmental impact. Currently under development, this first anaerobic digestion operation in the region is destined to transform the manner in which Long Island handles its waste stream.
Designed as a new, fully enclosed multi-million-dollar facility, this technology will digest food waste taken from supermarkets, restaurants and hospitals and turn this material into a source of energy which will not only help power the operation, but also provide fuel for the trucks that pick up the leftovers.
With the capacity to convert 180,000 tons of organic waste into renewable energy, compost and fertilizer, among other sustainable byproducts, estimates predict this digester will reduce the region's greenhouse gas emissions by 40,000 tons per year.
Between them, Charles Vigliotti and his brother Arnold boast decades of experience in this industry. From humble origins in Jackson Heights, Queens, hauling trash at the break of day to breaking ground, literally and figuratively, on Long Island Compost, their evolution is nothing short of impressive. As president and CEO, and senior vice president and COO, respectively, Charles and Arnold have ensured the company's position as the epitome of the recycling ideal.
The brothers founded Vigliotti Bros. Carting Corporation in 1976, running the business for nearly two decades before forming Long Island Compost Corporation. In the years since, the company has risen in the ranks to its current role serving as one of the premier manufacturers and distributors of engineered soils in the nation. In 2016, Long Island Compost entered into a joint venture with Scotts Miracle-Gro, leading to the distribution of their products at garden centers throughout the Northeast, as well as high-profile retail centers such as Home Depot.
In addition, the Long Island Compost design laboratory has engineered bulk soil and mulch products for landmark projects such as the National World Trade Center Memorial, Citi Field and numerous green rooftops throughout New York City. In recognition of the company's dominant position in innovative designs like these, Mr. Charles Vigliotti was featured on the cover of the February 15, 2017 issue of New York Times Magazine, where he was dubbed the "Compost King of New York."
The accolades haven't stopped there, as Mr. Vigliotti was recently presented with the 2018 Global Game-Changer Award by Dr. Jan Rapp, founder of the Swedish Biogas Academy. This award, given to "individuals who dare think differently, believe in their vision and personify the change," honors the courage of those aiming to make a difference.
Domestically, Charles Vigliotti has also received praise from Governor Andrew Cuomo, as well as some of the most prominent business and environmental organizations in New York. In 2015, he was inducted into the Long Island Press Power List Hall of Fame, which honors the most influential individuals on Long Island.