Governor Cuomo just announced his support for plans to erect an anaerobic digester that will have the power to revamp Long Island's outdated and unsustainable food waste system, as part of his Reforming the Energy Vision initiative.

The anaerobic digester, to be operated by American Organic Energy, will be built by August 2016 on the 62-acre grounds in Yaphank where Long Island Compost currently operates.
"This exciting project is yet one more way we're investing in a sustainable energy future and building a cleaner and greener New York," Governor Cuomo announced in a press release in September 2015. "This first-of-its kind project for Long Island and the greater New York metropolitan area will build upon this administration's commitment to expand the state's use of renewable energy and reduce our carbon footprint."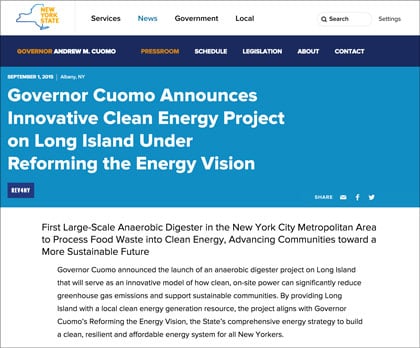 Charles Vigliotti, president of American Organic Energy, has been a long-time advocate for sustainable waste solutions on Long Island. As the co-founder of Long Island Compost and in his current tenure as president of AOE, he is committed to the reduction of our carbon footprint.
"We are dedicated to building nothing less than the most sophisticated food waste processing facility in the world," says Vigliotti in the press release. "To that end, we've partnered with GE for water clean-up and nutrient recovery and ScottsMiracle-Gro for solids and fertilizer marketing and distribution."
The anaerobic digester will work to transform 120,000 tons of food waste, 30,000 tons of fats, oils, and greases, and 10,000 tons of grass clippings collected from Long Island's supermarkets, restaurants, hospitals into clean energy, clean water for plant processes, and solid-based organic fertilizer. The conversion of food waste into biogas will create fuel that will power the entire on-site truck fleet as well as generate the electricity needed to power the digester and the facility.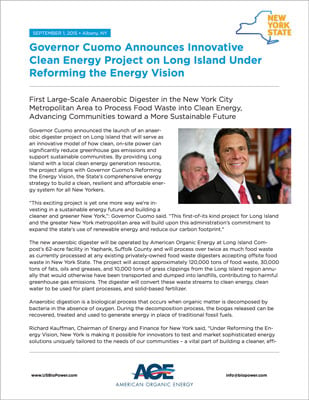 Local news reports that this $40 million project will begin construction later this year after some delays.
According to the press release, Long Island REDC Co-Chairs Kevin Law, President of the Long Island Association and Stuart Rabinowitz, President of Hofstra University, said, "American Organic Energy's anaerobic digester will reduce air pollution and landfilling, benefit local agriculture and create jobs. Long Island continues to benefit from Governor Cuomo's innovative approach to economic development and the environment, as well the region's highly skilled and educated workforce."