There's never been a better time for New York-based restaurants, supermarkets, hospitals and colleges to learn about the many extraordinary benefits of anaerobic digestion.
As if helping to reduce harmful greenhouse gas emissions, stop wasteful dumping, and save our precious environment weren't reason enough, the New York State (NYS) Department of Environmental Conservation (DEC) recently announced the allotment of $4 million in state grant funding to persuade large-scale food generators to invest in food recycling.
To be eligible for the funding, food generators must reduce, donate or divert wasted food earmarked for landfills instead to efforts to help feed hungry New Yorkers, or aimed at battling the contributing causes of global warming.
There are an estimated 2.5 million food-insecure New Yorkers, according to state figures. Diverting just 5 percent of uneaten food from the sanitation heap would increase food bank inventory 20 percent, officials said.
To combat such waste, the state is aggressively pursuing projects that would help significantly reduce the amount of food disposed of at landfills. The U.S. Environmental Protection Agency has identified landfills as home to the third-largest source of human-related methane emissions in the country. The state ultimately wants to reduce greenhouse gas emissions 40 percent by 2030, and envisions food recycling to be part of that solution.
This latest grant funding supports that mission, by expanding the capacity of food generators to donate or divert food and food scraps to food banks, organics recycling centers, and compost and anaerobic digestion facilities. Provided by the NYS Environmental Protection Fund, these funds are administered by economic development organization Empire State Development, which has contracted with the state's research and tech transfer center, the Pollution Prevention Institute, to operate the program. The grants can subsidize the purchase of food donation equipment, implementation of food waste reduction recommendations, and/or the creation or improvement of diversion and sustainability efforts, overall.
"New York is already transforming the way we look at food waste and its implications for local communities by recognizing the importance of food scraps on our environment, economy and health," NYS DEC Commissioner Basil Seggos said in a statement. "The grants announced today will bolster Governor Cuomo's efforts to reduce the greenhouse gas emissions contributing to climate change, while providing food for hungry New Yorkers and diverting waste from landfills."
New York classifies supermarkets, restaurants, hospitals and colleges as large food scrap generators; the grant funding includes, but is not limited to, these, however. Combined, those businesses and institutions generate more than 250,000 tons of organic waste each year, according to the state DEC.
Aside from feeding hungry New Yorkers, the grant program would go along way toward the state's urgent mission of fighting the harmful effects of climate change. Keeping food scraps away from landfills could mean far less carbon dioxide emissions, the state said.
Underscoring how urgent the issue is for officials in the United States and around the world, David Newman, president of the U.K.-based World Biogas Association, said last year: "If food waste were a country, it would be the third-greatest emitter of greenhouse gases (GHGs) in the world."
New York state alone manages 37 million tons of municipal solid waste each year. Among the solutions is to convert solid waste into clean energy through an eco-friendly process called anaerobic digestion

Want to learn more about anaerobic digestion?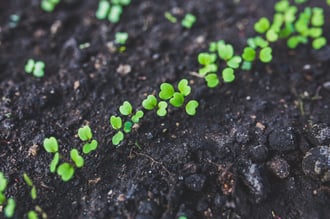 American Organic Energy: Protecting Our Future
Yaphank-based American Organic Energy (AOE) is currently building a state-of-the-art anaerobic digestion facility, the first of its kind in the metropolitan region. When it's complete, AOE's anaerobic digester will process more than 200,000 tons of solid waste, including fats, oils, food scraps and grass clippings. Diverting waste from landfills and to AOE's facility is expected to eliminate 40,000 tons of greenhouse gas emissions annually. That would-be waste will be converted into electricity, vehicle fuel, fertilizer and compost.
When the project was announced, New York Gov. Andrew Cuomo said it would be a model for sustainability on Long Island and across the region.
"Given how supportive the governor's office and the state agencies have been of our anaerobic digester project, it's little surprise to us how New York State continues to lead the way with such initiatives," said American Organic Energy CEO Charles Vigliotti. "They've proven to be a tremendous partner to the environmental community, and this just further entrenches their position as a leader in the nation."
Vigliotti has received high praise in recent months for his sustainability work. In February, the Swedish Biogas Academy presented Vigliotti with the 2018 Global Game Changer Award. The global nonprofit credited him with "turning Long Island and New York City into a model for every smart city concept in the world."
And earlier this summer, Vision Long Island recognized AOE for its environmental stewardship