The extraordinary amount of food wasted each year is likely to increase exponentially by 2030, according to a staggering new report foretelling of an impending, worldwide "food waste disaster" and "critical global issue" with "far-reaching implications."
In calling for world governmental bodies to take significant steps to tackle the widening problem, the global consultation firm Boston Consulting Group, which authored the report, said no continent will be spared, as it projects food loss and waste to hit 2.1 billion tons by 2030—up from 1.6 billion today.
BCG's warning comes as governments have acknowledged they have to do more to prevent food waste. However, the report is a reminder of the enormity of the challenges ahead. Underscoring this is the United Nations' 2015 goal of slashing worldwide food waste in half by 2030—which now appears to be incredibly ambitious.
The threat posed by wasted food is real, and deadly. The world is already home to 815 million people who experience chronic undernourishment, according to the United Nations Food and Agriculture Organization. Additionally, food waste accounts for 8 percent of greenhouse gas emissions, globally.
In the United States, discarded food dumped at landfills is the third-largest source of human-related methane emissions, according to the Environmental Protection Agency (EPA). At the local level, state governments and smaller municipalities are developing ways to reduce food waste. That includes New York State, which recently announced $4 million in state grant funding to convince large-scale food producers to invest in food recycling.
The Boston Consulting Group report, titled "Tackling the 1.6 Billion-Ton Food Loss and Waste Crisis," provides a sobering assessment of the sheer amount of wasted food worldwide. It does, however, propose several prescriptions, including increased awareness, improvements to the supply chain infrastructure, enacting better policies to encourage repurposing, and better collaboration between stakeholders, among other recommendations.
BCG also called on companies to take a more proactive role, either by encouraging food donations or advocating for reduced food waste.
"Companies that take action to reduce food loss and waste will do more to address a critical societal issue," the report states.
In projecting a significant rise in wasted food, BCG also calculated a price tag of $1.5 trillion—an astonishing sum.
"The challenge is enormous, but there is a clear way forward," the report states. "On the basis of an extensive analysis of the food value chain from production through retail and consumption, BCG has identified five drivers of the problem, issues—if addressed—could reduce the dollar of annual food loss and waste by nearly $700 billion and create major progress toward hitting the [UN Sustainable Development Goals] target."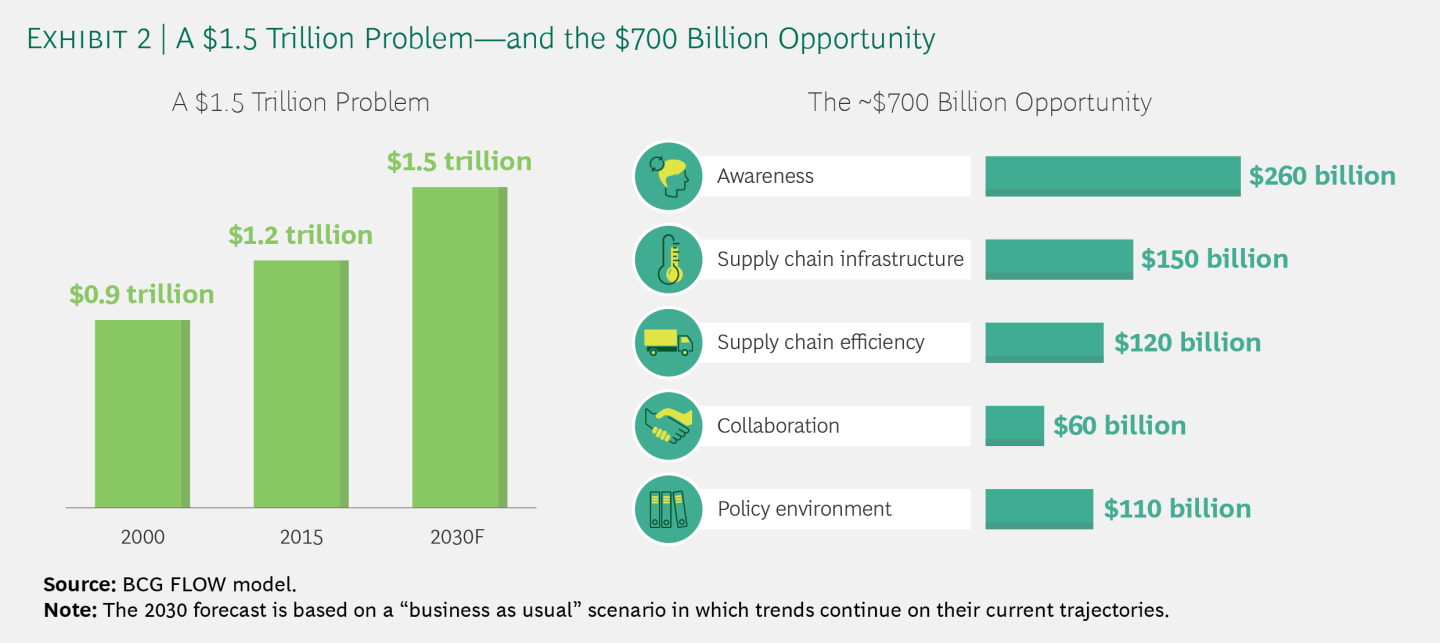 The food waste crisis is one that most municipalities may be able to relate to, especially among those with overburdened landfills. Discarded food—whether its an apple core, chicken bone, or uneaten hamburger—is taken from residential curbs and apartment complex and commercial office dumpsters, and discarded into landfills, where they decay and release harmful carbon emissions into the atmosphere.
New York City, for example, discards 14 million tons of waste each year. It is currently phasing in a composting program that requires residents and some large-scale food operators to separate organic waste from other trash. One such program proposed by the New York City Sanitation Department calls for retail food chains of a certain sizes and other food establishments to separate food scraps—which could affect up to 2,000 commercial food establishments in the city.
Waste collected at residencies or businesses would be diverted away from over-burdened municipal landfills to processing centers. One alternative to landfills is American Organic Energy's planned anaerobic digester in Yaphank, N.Y. The state-of-the-art digester, which will be the first-of-its-kind in the region, will convert upwards of 180,000 tons of organic waste, along fats, oils, greases and grass clippings, into clean, reusable energy, including electricity, natural gas, and fertilizer, once the project is complete.
Several notable organizations have already recognized how the anaerobic digester project could prove to be a game-changer for the region. When it was first announced, Gov. Andrew Cuomo celebrated the project as a model for future sustainability causes, and this year, AOE's president and CEO Charles Vigliotti received multiple awards for his leadership.
Learn more about American Organic Energy's revolutionary anaerobic digester facility, and become an AOE Partner, today.